Welcome to

District 6650
Are you an established professional who wants to make positive changes in your community and the world?
Our club members are dedicated people who share a passion for community service and friendship.
Becoming a Rotarian connects you with a diverse group who share your drive to give back.
Rotary...What We Care About
October is RI Economic and Community Development Month...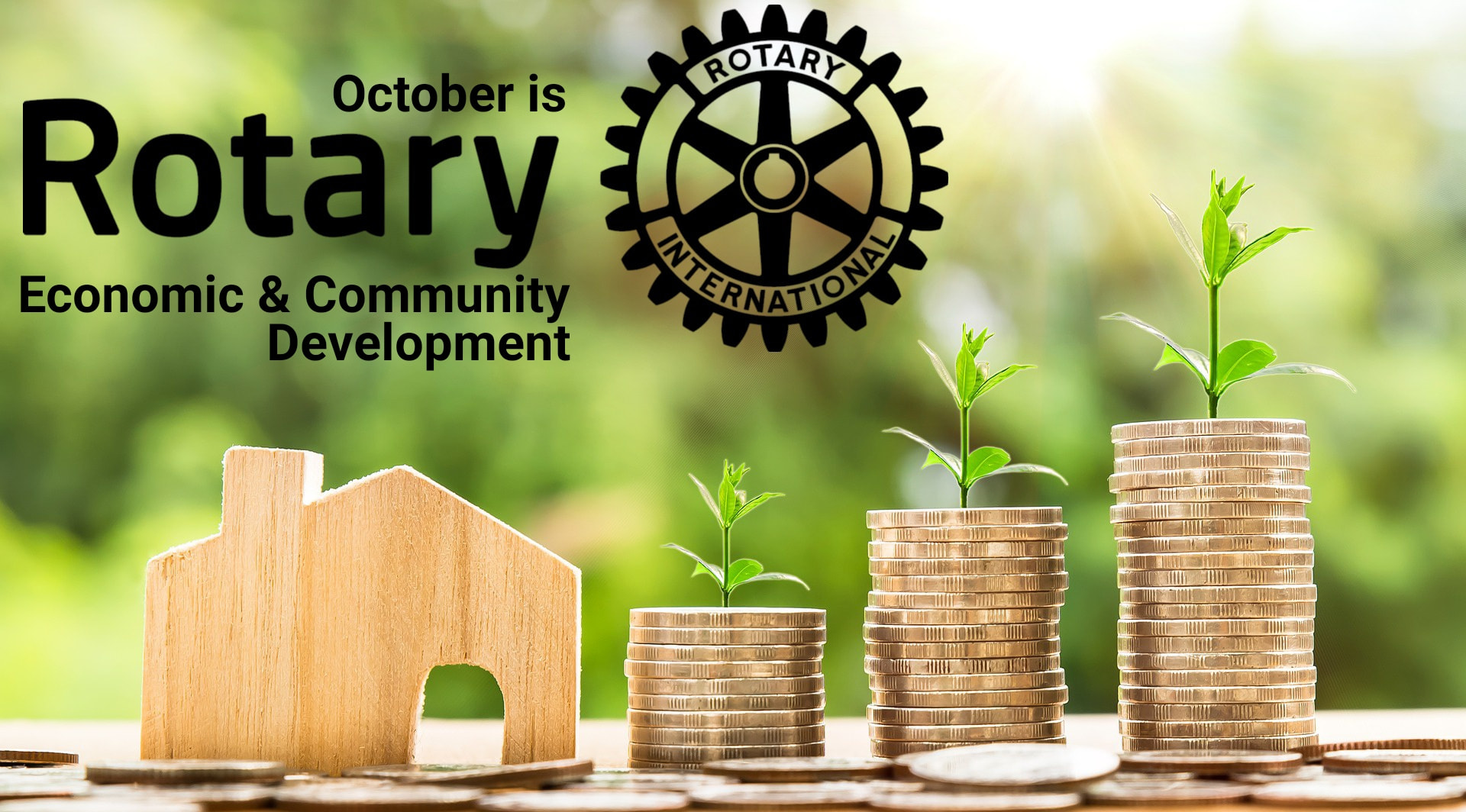 October 2022
Fall is in the air. As I drive around the district, I have begun to notice some leaves beginning to
change color. While I'm sad to see the warm, sunny skies of summer on their way out, I do love
the changing seasons.
I visited 12 clubs during the month of August: Howland, Sugarcreek, Perry Township, Louisville,
Bolivar-Zoar, Struthers, Poland, Canton South, North Canton, Wooster, East Liverpool, and
Youngstown. I continue to be amazed by the amount of good work that the Rotarians in our
District are doing. If you haven't gotten me on your schedule yet, please email me! I really want
to try to get to every club before the end of October!
A few updates on my goals:
Membership: We are currently up by 12 new members as of August 31. Keep working on
caring for the members you have and bringing in some new and diverse ones!
Annual Fund: We are just barely 10% of the way to my goal of $200,000 to the annual fund at
The Rotary Foundation. Please encourage 100% participation. No gift is too small - every dollar
matters. And remember 50% of what we donate to The Rotary Foundation returns to our district
for district grants!
Polio Plus: We are only at 1% towards my goal of $25,000. Please plan an event around World
Polio Day on October 24!
Night for Ukraine: Our "Night for Ukraine" website is now live! Please check it out here. We are
currently soliciting sponsorships. Tickets are on sale now for only $60 per person. Reminder! I
am asking each club to donate or raise a minimum of $2,500 for this event. Every Club
who does so will receive a Paul Harris Fellow to give out as they see fit. My goal is to raise at
least $100,000. Proceeds from this event will be split in half: Half to directly benefit Ukraine
relief, and half will go to The Rotary Foundation.
Have an amazing September!
Yours in Rotary,
DG Michelle
WORLD POLIO DAY
6650 Inbound Exchange Students
The Youngstown club welcomed their inbound Rotary Exchange student from Japan, Izumi Nishimatsu.
The North Canton club welcomed Hiroto Take, our Japanese exchange student. He is a big NBA fan! (Cavs tickets anyone?)
Manu, from Italy, was welcomed by the Youngstown club. She rocked her first presentation to the club.
Ukraine Relief Fundraiser
I hope that you will save the date for a very special event being hosted in our District this year.
A Night for Ukraine
Saturday, Nov. 5, 2022
6-10pm
St. Nicholas Orthodox Church, North Canton
Rotary International Leaders 2022-2023
AUSTINTOWN ROTARY
Mark your calendars because 'Night at the Races' is returning November 4th!
This is our biggest fundraiser of the year and is without-a-doubt a great time!!
We'll be looking for race sponsors, horse sponsors, and this year we'll have a reserved table option!
BOARDMAN ROTARY
BOLIVAR-ZOAR ROTARY
CANTON SOUTH ROTARY
Save the Date! The 36th annual Canton South Rotary Girls Basketball Preview is Monday, November 14, at Canton South High School.
This is our club's largest fundraiser to help support the Stark County Exceptional Olympics.
6:00PM Strasburg vs. Orrville 6:40PM Jackson vs. Marlington 7:20PM Canton South vs. Dalton 7:55PM Perry vs. Tusky Valley
8:30PM Sandy Valley vs. St Thomas Aquinas Sponsorships are available! Contact neckingerjr@normaneckinger.com for advertising information.
Fall Community Health Check
GIRARD-LIBERTY ROTARY
JACKSON & PERRY TOWNSHIP ROTARY
Night at the Races 2022 Saturday, October15, 2022 AT 5:30 PM – 9 PM at the McKinley Eagles
MILLERSBURG ROTARY
PERRY TOWNSHIP ROTARY
Perry Township Rotary has selected Sole Inspiration and many other amazing organizations as a beneficiary for this year's Perry Township Rotary Turkey Trot! If you are interested in sponsorship for this event, please let us know.
NOVEMBER24, 2022
The Perry Rotary Club is selling wreaths for this year's Wreaths across America event on Saturday, December 17 of this year. Although it's still summer and winter seems to be in the far distance, it's time to order your wreath(s) today! Wreaths are 15.00 each. Please buy one for a relative, a friend, or a veteran's family. Our goal is to be sure that all 2500 veterans buried at Calvary Cemetery receive a wreath upon their headstone this December.
District 6650 By the Numbers
1800+
Total Active Members
$50,000+
Annual District Grants
Stories
District 6650 Contact Information
District 6650 Contact Information
Joan Cauley, District Secretary
Email: rotarydistrict6650@gmail.com
Phone: 601-654-4720
Mailing Address:
P.O. Box 2376
North Canton, OH 44720
Find us:
www.district6650.org
https://content.clubrunner.ca/50061